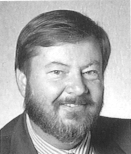 "Big John"

John S. Bowers, II
I have been a life long resident of New Orleans, Louisiana and received my education in the New Orleans public school system through high school. In college, I majored in mathematics at Loyola University, New Orleans.
I signed up with the New Orleans Electrical Joint Apprenticeship Training Committee of I.B.E.W. Local #130 as an apprentice in 1969. I attended Delgado College from January 1, 1969 to December 31, 1972, and upon completion of my apprenticeship program, I received my Journeyman Wireman Classification on January 10, 1973. I have worked through I.B.E.W. Local #130 as a Journeyman Wireman, having many employment opportunities leading up to my present job as Organizer.
As Organizer of I.B.E.W. Local #130 it is my goal to personally contact and make available to every electrician working in Local #130ís jurisdiction, the same opportunities that Local #130 has offered my family and I for the last thirty-one (31) years. As a member of I.B.E.W. Local #130, I have received great training, wages, benefits and most of all security for my family.